Lipstick-face Demon

The Demon inside his lair
Biographical information
Gender
Male
Race
Demon
Faction
Villains
Health
Unknown
Status
Still in existence
Appearance
Played by
Joseph Bishara
First seen
Insidious
250px

The
lipstick-face demon
, "The man with fire on his face", is the main antagonist of Insidious and a minor antagonist in the sequel Insidious:Chapter 2. In the first film, it was the closest Insidious entity in
the Further
 to capturing
Dalton
's physical body. The demon's trademark is Tiny Tim's
Tiptoe through the Tulips
and lives inside a large, demonic-decorated lair behind a blood-red door in the Lambert's attic.
Insidious
Edit
The Lipstick-face Demon, as the closest entity to capture Dalton's body, while he kept the boy in his lair. Josh entered the further to rescue his son Dalton and return him to his body in the material world.
Insidious: Chapter 2
Edit
At the end of the film the demon reappears in shadow as Elise recognises the entity and appears to have taken over a little girl named Allison. The demon is recognized because of the familiar crackling sound that gives away his presence.
Appearance 
Edit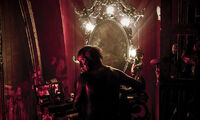 The Lipstick-face Demon has a muscular texture, but is completely black-skinned. His face is partially red because he paints it with lipstick and smears it on his face. He is half-bald, has dark and coarse fur on his legs, and has dark hoofs and a tail. He also has long, sharp, spider-like claws at the end of his fingers. Though the Demon never speaks in the film, it is capable of speaking, as Lorraine mentions that in a dream she spoke to it and it responded to her in words. When asked who it was, it responded that it was a visitor. When asked what it wants, it responded that it wanted Dalton. Lorraine claimed she could still hear its voice, implying that the Demon has a chilling voice. The Demon keeps Dalton close by in his home in the Further, which seems to be a theatre-like chamber.
The Demon has marionettes which it likes to play with. It also seems to enjoy sharpening its nails. The Demon hurts Dalton whenever he makes noise.